UdeM is embarking on a citizens' campaign to raise more than $500,000 to protect lakes from blue-green algae.
Background
For a number of years now, the development of blue-green algae has been an environmental problem that has alarmed health authorities, as well as many citizens, elected officials and business people throughout Quebec and Canada.
What are blue-green algae?
Also known as cyanobacteria, blue-green algae are bacteria that naturally occur in waterways. At a certain level of heat (a phenomenon exacerbated by climate change), light and nutrients (from agriculture or municipal discharges), the bacteria proliferate and flourish in aquatic ecosystems, including lakes. Apart from their unseemly appearance, cyanobacteria blooms frequently produce cyanotoxins, which, when ingested by humans or animals, can cause disease or even death.
Since 2016, Sébastien Sauvé, an environmental chemistry professor at the Université de Montréal, has been leading one of the world's largest research initiatives to date on cyanobacteria. As part of this project, Mr. Sauvé and his team decided to implement ADOPT A LAKE, a campaign enabling all citizens to participate in the development of knowledge and the search for solutions on cyanobacteria
Photo credit : Blueleaf Inc.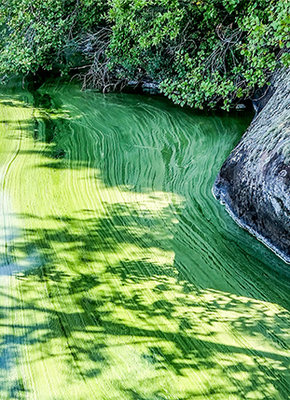 Objectives of the ADOPT A LAKE campaign
Means
To achieve this, the campaign seeks the support of generous donors. The aim is to reach $500,000 in order to collect and analyze 500 water samples.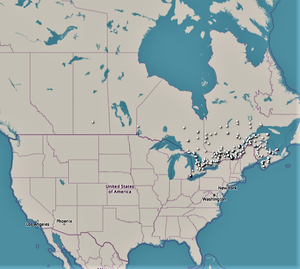 How to participate in the ADOPT A LAKE campaign
There are two ways to participate in the campaign:
1) Adopt a lake by volunteering to collect a sample from a lake.

2) Adopt a lake by making a donation.
All amounts raised matter and will help make this campaign a success.
As soon as $1000 is raised, 1 lake sample can be taken. Therefore:
1 lake sampled = $1000 raised
500 lakes sampled = $500,000 raised


In recognition of your contribution
A newsletter will be sent out regularly to all campaign participants (volunteers and donors) to keep them informed.
As each $25,000 level is reached, an announcement will be made via e-mail to all participants announcing the 25 water points that will be sampled.
A tax receipt will be sent by regular mail the month following the donation.
References and appendix of the analysis report